The Founder – Jasco Nutri Foods
A man of grass root level with varied interest carries an ambition to ensure that it contributes to the humanity.
A man with simple personality which speaks volumes of achievements, with immense leadership quality, who has established a strong empire and reached greater heights. A man who strongly believes in a planned hard work on projects, blended with strong will power.
He has achieved Excellency in many fields through various ventures like – Hospitality Business, Real Estate, Fisheries and Wholesale Trading of Liquor.
Despite of enjoying the position he has not rested on his laurels and dreamt in the year 2000 for the fitness and good health of the society through natural resources. The idea sprouted into an action when he took it as a challenge and converted the barren land into horticulture heaven what he had in his possession. He converted the barren and infertile land through cultivation of medicinal plant gifted to us from Mother Earth i.e "AMLA " (Indian Gooseberry) and "ALOE VERA " ( Barbadensis Miller), in the name of "JASCO AGRO FARMS ". In 2005 it was a visible identified change as a green valley of acres and acres.
The vision and mission of Mr. Bhatia started changing into the future plans of execution through his extra ordinary quality of leadership, conviction and plan to bring a revolution in the field of good health. The creation of Jasco Nutri Foods in itself is a source of inspiration, paving the way for others to follow.
The Natural Leader
The Jasco saga is an account of one man's vision and his determination to achieve the target. Mr. Devendar Singh Bhatia may be a man of few words, but his endeavors speak volumes about him.
It was the year 2005, when he laid the foundation of his dream – Jasco Nutri Foods. The odds were heavily stacked against him then. It was a completely new field for him. The resources to begin with were sparse. Plus, there were a host of other infra-structural issues staring at him.
Blessed with natural talent & leadership capability, relentless passion. Strong conviction. And above all, the willingness to smear his hands with soil to breathe life and soul into his products.
While these factors have been instrumental in building this horticulture heaven, they have gone on to catapult this relatively young company into one of the leading names in the field.
And today, Jasco Nutri Foods under the able guidance of Mr. Bhatia is going from strength to strength and now all set to carve a niche for itself in the global arena.
Achivements
Vanoshadhi Krishi Ratna Award 2007 for Organic Farming of Herbal and Scented Plants
Herbal Medicinal Plantation Mission
Award for Extra-ordinary efforts in Herbal Plantation given by Honorable Cabinet Minister of Madhya Pradesh Shri Kailash Vijayvargiya in 2009
Award for Organic Cultivation given by Former Union Minister Shri Sompal Shastri in 2005
The Community Service and Leadership Award given by Centre for Social Change (USA) in 2008
Manufacturing Unit
Jasco is the cultivator, manufacturer & exporter of ayurvedic herbal products in India. Jasco practices Amla & Aloe Vera organic farming from traditional Indian methods & manufactures amla & aloevera product range. Aloe Vera Health Juices, Aloe Vera Gel, Amla Candy and Powder are our range of organic products.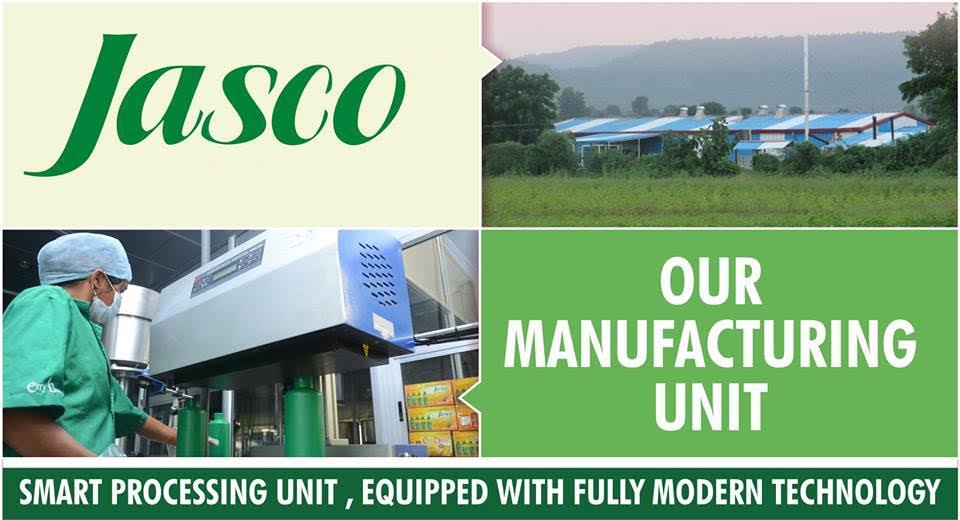 Jasco has its own land for organic cultivation in Balwada, Near Indore (India), where all cultivation is done with organic farming practices without using any chemicals.
Jasco also has its own state-of-art farm. Jasco has a high-tech processing & manufacturing unit at Balwada, where optimum quality standard is achieved. Our expert technical professionals and the advices of ayurveda doctors are always in research process to give the best products.
[button style="btn-default btn-sm" icon="glyphicon glyphicon-list-alt" align="left" iconcolor="" type="link" target="true" title="Download Brochure" link="http://www.jasco.in/wp-content/uploads/2016/09/Jasco-Company-Brochure.pdf" linkrel=""] [button style="btn-default btn-sm" icon="glyphicon glyphicon-list-alt" align="left" iconcolor="" type="link" target="true" title="Download Leaflet" link="http://www.jasco.in/wp-content/uploads/2016/07/leaflet-jasco.zip" linkrel=""]