Aloe vera Gel – Beauty and Other Benefits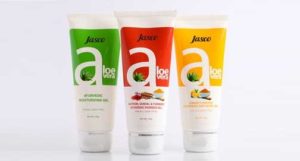 There are a thousand definitions of beauty and each definition has different degrees. Each woman in this world is beautiful in her own way and each of them deserves to be groomed in the most natural and sensitive way so as to preserve the natural essence of her beauty. Aloe vera, also called the 'plant of immortality', is one of the leading therapies for sunburns. Jasco brings you the Aloe vera gel from its Ayurveda skincare range to make your skin smooth and bright. Aloe vera gel does not only treat sunburns, it also moisturizes your skin and fights aging. It is the best and purest way to treat acne and enriches your skin with various nutrients like glycerin, sodium palmate, sodium carbonate, sodium palm kemelate, sorbitol, etc., thus restoring its glow and flawlessness.
Beauty has always been costly. In the fevered race to remove wrinkles and blemishes from our face we spend huge amounts of money but now with this natural Aloe vera gel you can rejuvenate and glorify our skin without paying a top dollar for it. Sure everyone wants a beaming skin but as soon as summer breaks life becomes all the more difficult for our skin. During summer, skin becomes dry and loses its elasticity i.e. it starts aging a bit too fast. But summer is also a time when people feel that their skin getting oily. The best solution in this condition is using Aloe vera gel as it hydrates the skin without making it greasy. Aloe vera has antibacterial and anti-inflammatory properties and thus it does not only remove acne but also prevents future growth of acne. Its soothing effect is delightful in this hot weather.
This product is not only effective in enhancing beauty but is also useful against wounds and insect bites due to anti-inflammatory action. The benefits of aloe vera don't seem to end as it is also excellent for hair growth. Yes! It is possible to get rid of harmful chemicals to promote hair growth as aloe vera gel takes care of this as well. Moreover, you get to stay away from carcinogenic chemicals used in skin creams.
Aloe vera is surely a gift to humankind and Jasco provides you aloe vera gel at your doorstep and that too without costing a great deal to your pocket. So, ladies this summer change your beauty regime with this Aloe vera gel and feel attractive, vibrant and confident.
Author: jasconutrifoods